Archive for the 'personal' Category
As I am visiting my family in Seville this weekend, I was looking forward to a lazy sunday not doing much all morning… maybe have a look at my slides for Future of Web Apps Expo talk in London next week…
But instead, evil Lera sent me this: http://fantasticcontraption.com/

So terrible! couldn't stop this morning!
Oh well.. slides can't compete with a good flash game… XKCD is sooo right…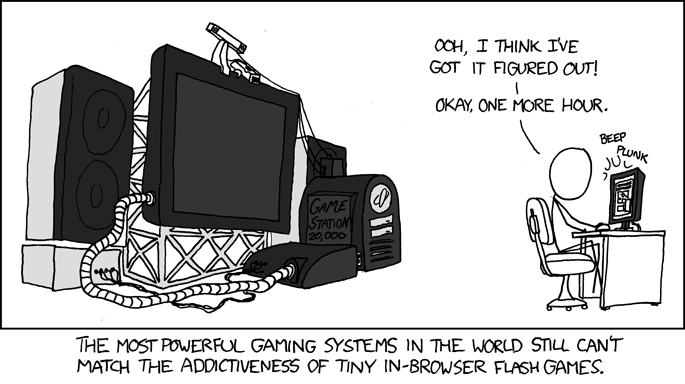 I uploaded my slides for the yahoo widgets presentation in Webcamp.ro in slideshare, but I seem to be unable to make a presentation that works here:
|
View
|
Upload your own
Of course, while i make this work, you can always download the PPT directly here
It was a really good event! Maybe a bit too "marketing" for my taste at the beginning, but then it went really nice. The best of all: the people of course! Starting with those who attended, that asked questions afterwards, and that sent me mail or IMs to ask questions about widgets… and ending up with my wonderfulous hosts Bobby, Bogdan, Maria and Andreea. Thanks a lot to all for making this a great experience!
Oh! and also: last time I was in Bucharest I was in the same area my hotel was this time, but couldn't find any decent place to go out. Turns out on top of the old building of the National Theatre, right next to where i was, there's this AWESOME terrace, with open-air tables, benches, paintings of different artists lying on the walls… and the music was just perfect! Thanks Maria for the tip!
(now, if only i could find some photos of the place…)
got a presentation to give next week at Webcamp talking about mobile development (courtesy of YDN). They have tracks on SEO, widgets and Web 3.0 (are we on 3.0 already?), but I think the one I'm more interested in is on Romanian-specific web issues… It's always good to hear how different countries have got their own special highs and lows in the web industry (and hopefully i can find some people to talk about mobile too, as I don't know that much about the specific situation in Romania!)
So, if anybody is around Bucharest (you know, by chance) and wants to check it out… ping me!
wow! this week is being pretty intense: first we had BBC mashed event, today was the searchmonkey hacking evening and tomorrow is our internal Yahoo! hackday.
Lots of things to do, little time to post…
I did a Fireagle widget hack in Mashed, that I couldn't get completely running because I started playing with the authentication (trying to make oauth work with only curl) and with Ant scripts to verify/lint/deploy both XML and PHP files (pretty sweet stuff!) Will post info as soon as I can
I was only briefly at the hack evening today, but managed to check the talk, chat with a couple of nice people from ITV and do a formula 1 monkey to extract info from eurosport pages and present it alongside search results. I think it looks nice:
So if you take Wikipedia as a kind of unit, all of Wikipedia [...] represents something like the cumulation of 100 million hours of human thought. [...] And television watching? Two hundred billion hours, in the U.S. alone, every year. Put another way, now that we have a unit, that's 2,000 Wikipedia projects a year spent watching television.
From Clay Shirky's blog (author of "Here comes everybody")
… como demuestra el hecho que desde que los de TED pusieron las charlas descargables directamente al IPod, el trayecto de autobus a la oficina es mucho mas corto…
como ya se ha encargado de comentar el maligno hemos estado de mudanzas estos dias. Hemos tenido un poco de lio buscado sitio, moviendo cozas, decorando y demases pero esto ya empieza a parecer un poco una casa (con algunas cajas y una bandera de los maiden en el salon, pero una casa al fin y al cabo).
Para los aventureros que de cuando en cuando se dejan caer para visitar, que sepais que estamos en Pimlico, tenemos vistas al rio y como siempre estais mas que bienvenidos (siempre que traigais jamon) ;P
Entre la mudanza, viajes de curro, viajes no de curro y demas boberias, no me ha dado tiempo a escribir nada (ni emails personales, como ya sabeis algunos) Eso si, voy a aprovechar que hoy tocaba escribir para comentar que no somos los unicos que estamos de mudanzas:
PCWorld: T-Mobile Dumps Google in Europe for Yahoo
Para los que no entendais euskera: la noticia viene a decir que TMobile acaba de firmar con Yahoo para cambiar el motor de busqueda de Web'n'walk (su plataforma movil) de Google a Yahoo OneSearch. La importancia del asunto no es solo en temas de tener mayor numero de usuarios y de visibilidad, sino que ademas es la primera vez que una operadora pega el cambiazo en temas de mobile… y encima dejando Google, claro, que tiene su intringulis…
Y es que el mundo mobile esta que se sale con los anuncios… y mas que nos espera este anyo! A ver si el tiempo me deja y ponemos otro post sobre los ultimos anuncios del 3GSM en Barcelona de la semana pasada…
En fin, espero que me perdoneis el momento "corporate publicity" pero… es que nos hemos dado un curro que no veas para sacar TMobile adelante, asi que despues de lo que han trabajado los integrantes del equipo, tanto en London, como en Sunnyvale, como en Hamburgo, como en Bangalore… que menos que estar orgullosos! Es que son unos crases!
Y como se suele decir: seguiremos informando!
---
---